The Air Line was once a railroad renowned for its relatively straight course from Boston to New York - "as if by a line drawn through the air." You can still find lumps of coal left over from the steam era. Today the rail bed has been converted to a Connecticut linear park and hiking trail.

At this web site you'll find over 11,000 photos and video clips of the natural environment - plants, animals, and landscapes - taken on the Air Line Trail in eastern Connecticut, from the Fall of 2001 until the present.
Recent Additions:
2014 Hunting Seasons - Bright colors in hunting seasons!
Backyard "Mothing" - Summer, 2014
"Mothing" at Hurd State Park - June 18th, 2014
Male Promethea Moths seeking a mate - June 6th, 2014
American Woodcock - March 22nd, 2014
Rapid Bioassessment by Volunteers Guide to Stream Insects
Trail Maps and Directions - Trail History
Martin Bartel's Air Line Rail Trail web site
Local Attractions and Lodging
2014 Hunting Seasons
Planning a Trail Project?
Links - About the Photos - About Stan - Contact Stan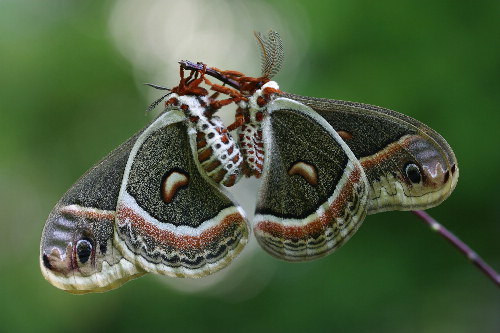 "Mates" - First Prize, Connecticut Audubon Society Photo Contest, 2009.

---
---
You don't need to leave your room.
Remain sitting at your table and listen.
Don't even listen, simply wait.
Don't even wait.
Be quite still and solitary.
The world will freely offer itself to you.
To be unmasked, it has no choice.
It will roll in ecstasy at your feet.
-Franz Kafka
It's simple, really;
Becoming one with nature.
Look, listen, let go.
---