Our Team, the Clinic, and the Clinic's Staff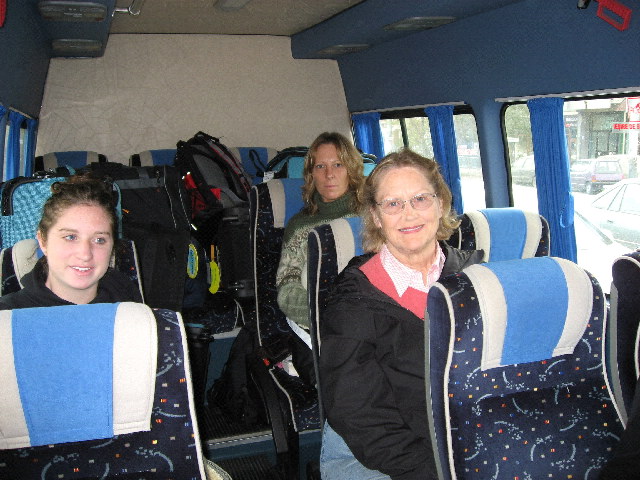 Mary (left), her grandmother Paula (right), and Kim DeWitt are on the bus ready to take off for the unknown. This is Mary's first volunteer trip! At sixteen it's quite an undertaking and she turned into quite the trooper by volunteering to take care of the Toddlers with Bob. In this picture she is experiencing "uninformed optimism". Those nine kids are quite a handful.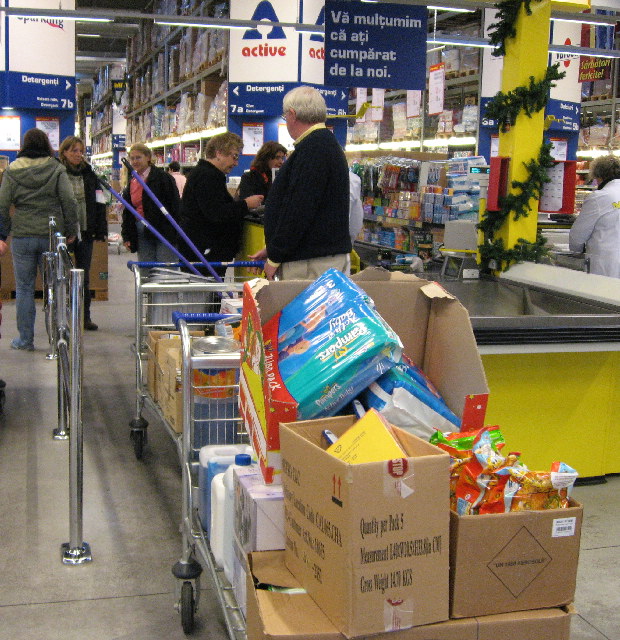 Thanks to the generous contributions of friends and former volunteers, we stock up on cheerios, cleaning supplies, diapers and food for the kids. Here we are checking out of the Metro (like Costco). Quite the shopping trip for almost $800 on the first day in Bucharest. We'll load the van and stop at the clinic on the way to our hotel. There are six on our team. We'll be busy. There I am at the cash register using my debit card! Too bad I don't get miles with these charges!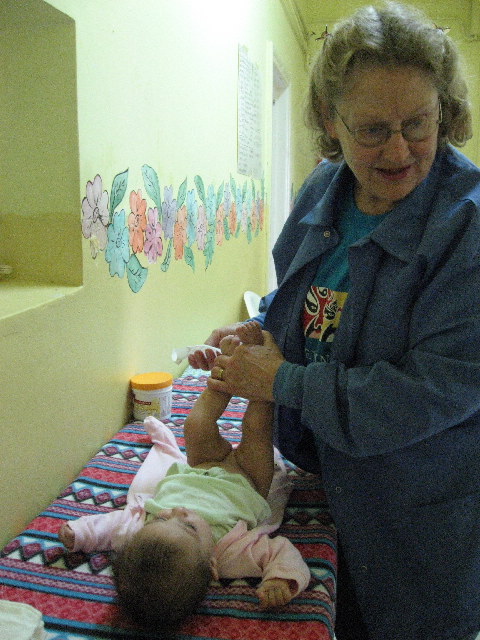 Paula Richey is "on duty". We go through lots of A&D Ointment too! We were half as fast as the staff in changing kids… but we were "enthusiastic". At least the women were.
Walt Richey and I worked with the Mobiles… and we alternated with Bob and Walt and Paula's granddaughter, Mary, to work with the "terrorist" toddlers. Here Walt is playing with Abel the Explorer!
Here's team member Bob Gery with a personal favorite, Florin! Florin has had two surgeries for club feet and is now doing well thanks to everyone's care and special orthopedic shoes (not shown) donated by volunteers as he grows. He's almost four and hopefully will be with a loving foster family soon.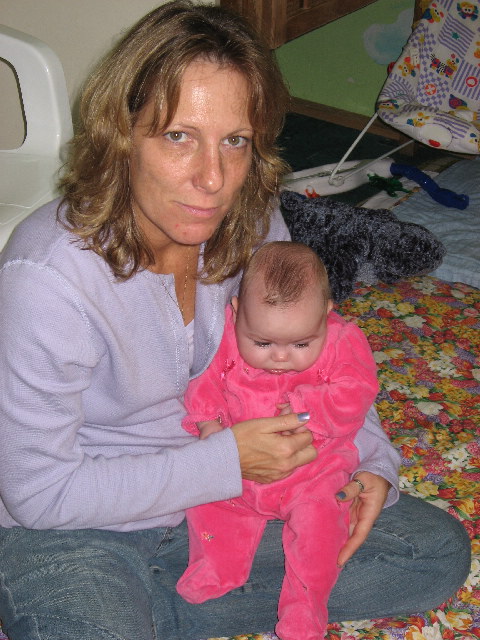 Kim Dewitt worked with Paul with the non-mobiles. This is little Andrea who has numerous medical problems including a restricted major artery. She does look pretty in pink… but she has a lot to face ahead of her.
Gloria with Sylvia… a special bond here… Sylvia loves the Scooby Doo scrubs and Gloria just loves holding and playing with her.
Sylvia's parents visited. It's clear when you see them that they love her… and not being able to care for her at home must be quite distressing. Some kids' parents visit and others are in parts unknown.
Before: Here's the old kitchen cooking area where staff prepared bottles and formula for all the kids. Peeling 50 pound sacks of potatoes, carrots and apples and then "cooking it down" was not an easy task with half of the burners not working and such large pots. You can see the gas line behind the stove on the right that's attached to a propane tank like you'd use with your gas barbecue.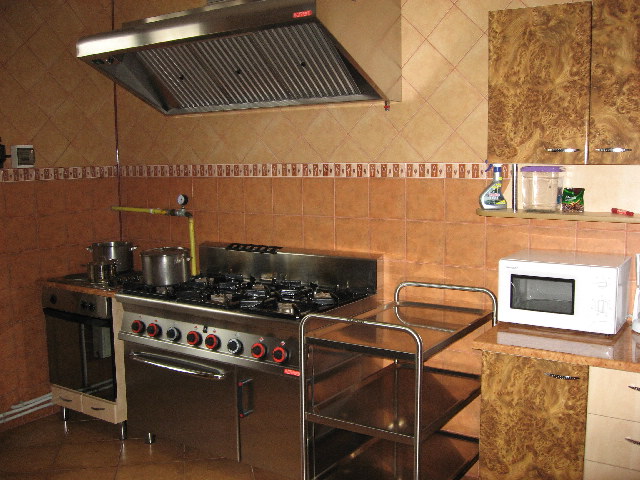 After: The Kitchen was renovated in 2006 thanks to contributions from volunteers. This is the new cooking area… You can imagine the difference. Plus, the windows in the kitchen and all of the children's sleeping and play rooms were replaced with modern windows and screens. Plus, the front door was replaced. You'd be happy with the quality of the tile work in your own home!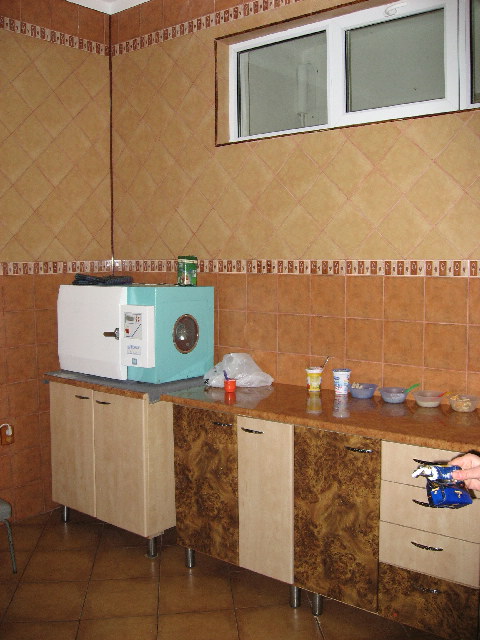 A new sterilizer and storage and work areas! Everything now conforms to European Union standards for hospital kitchens. New refrigerators, etc. are all in place too.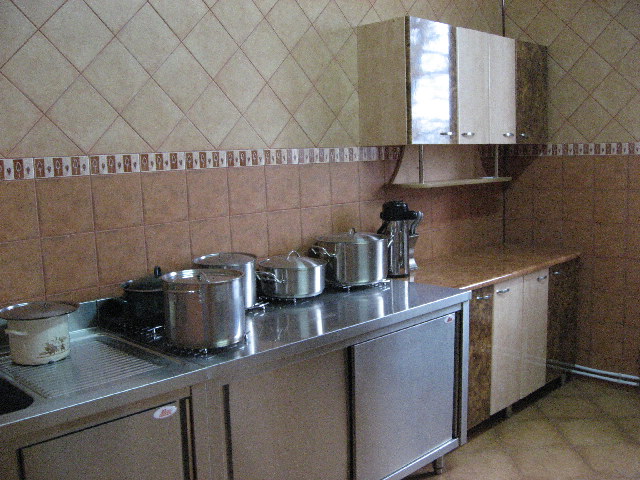 More work and storage area!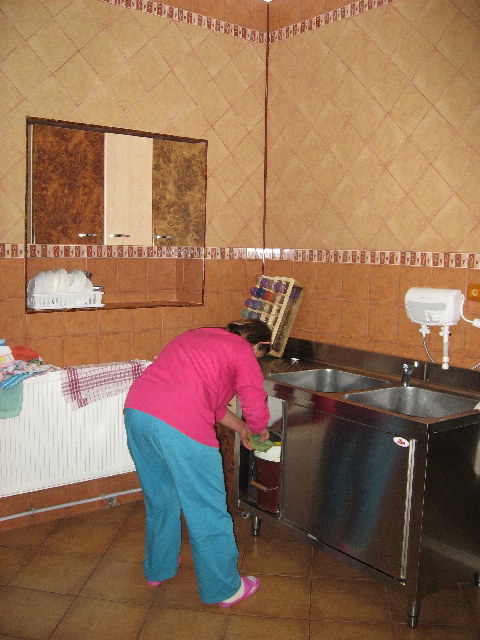 Everything is high quality stainless steel and "built to last". When I first traveled to Tutova in December 2004, there wasn't even hot water in the kitchen and there was one tiny sink and very limited storage.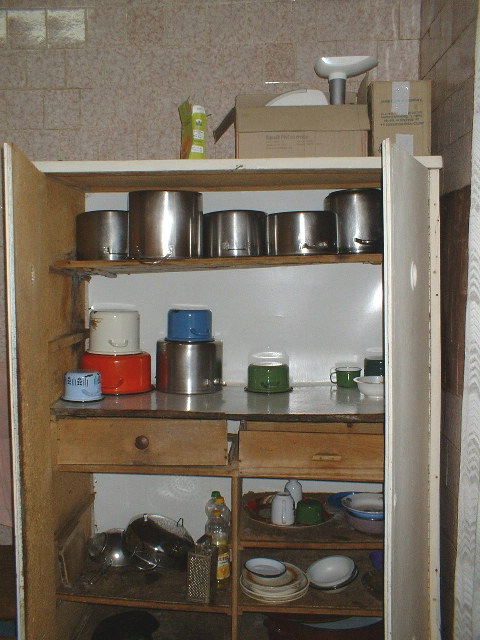 Before: Believe it or not, this was the entire storage area… and it was held together "with spit and glue". I just love a good makeover!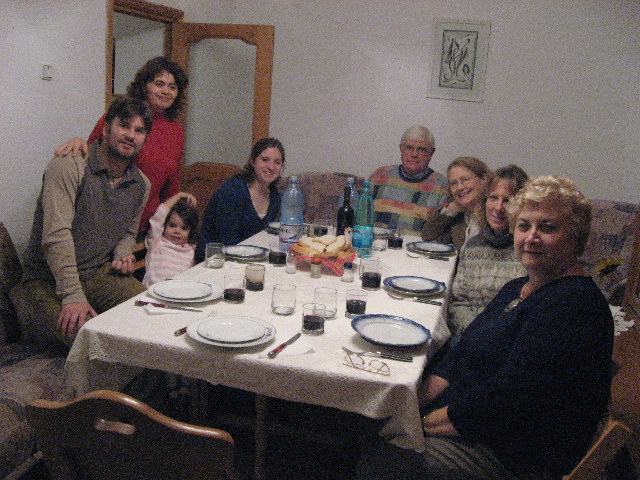 Bob took this group photo with Mihaela, her husband Daniel, and daughter,Delia on the left, and (clockwise), Mary, Walt, Paula, Kim and Gloria. This is at Mihaela's home just before Thanksgiving Dinner was brought to the table. There was some excellent homemade wine on the table. It's wonderful to be in an actual home enjoying home-cooked food.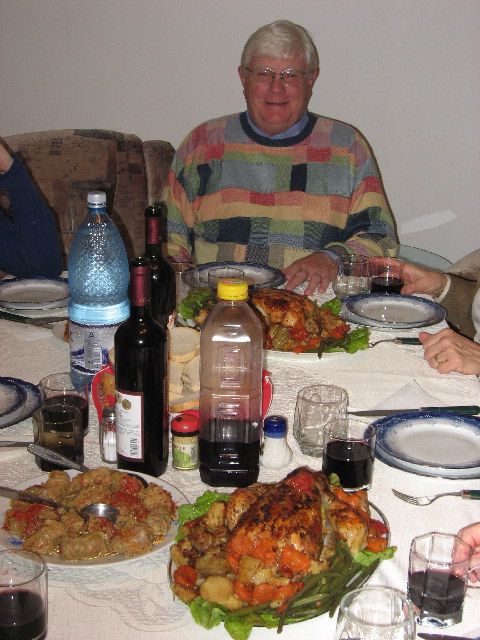 Thanksgiving Day in Romania was quite wonderful. All of us joined our team leader, Mihaela and her family for this delicious meal of "faux turkey" (chicken) with lots of fixings. Walt is looking forward to carving. The stuffed cabbage on the left, while not an American tradition, was a favorite of ours and prepared by Mihaela's mother, Katy (Katerina). What a feast!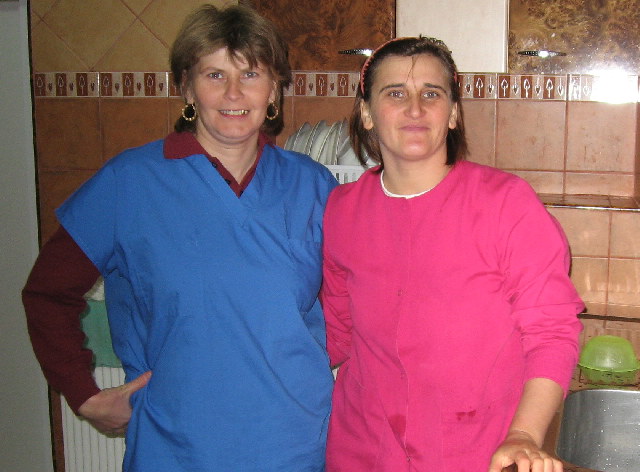 Gellina and Liliana work really hard like all of the other staff members. They are life-savers to these children and are grateful for all of the volunteers.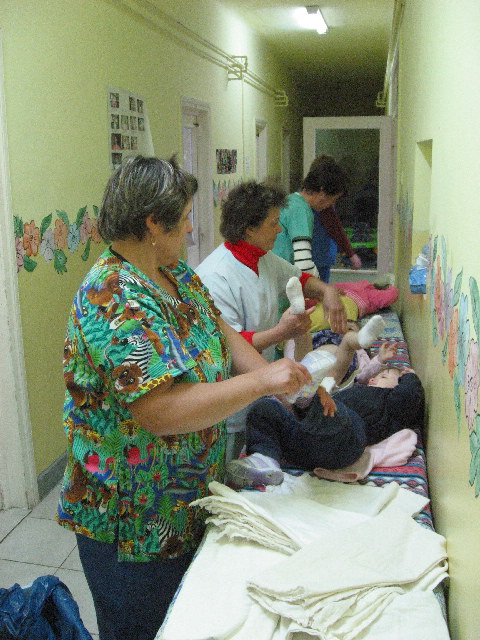 Here's the diaper changing line - 400 diapers are changed daily and washed. This is a monumental task as you can imagine!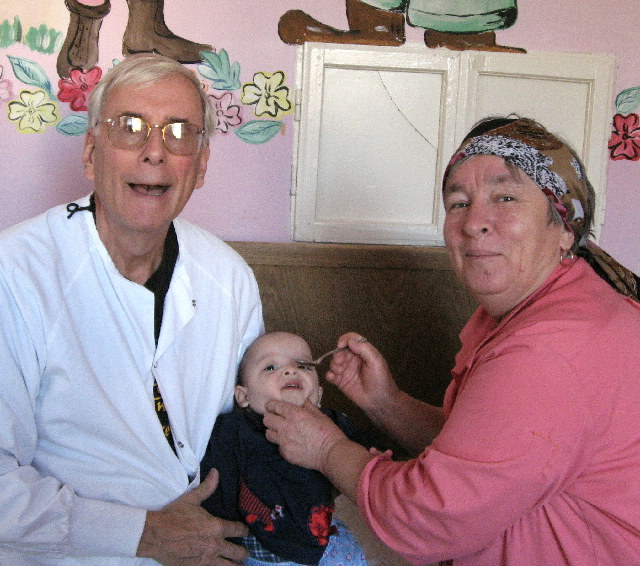 Bob holds twin, Julian, while Victoria prepares to give him his medicine. They all look like they are having entirely too much fun for getting medicine. I have never seen a baby smile in this kind of situation, but clearly Julian just loves the whole deal.
Feeding time! The kids are like birds. Liliana is feeding some of the mobile kids on the weekend when Bob and I were alone with only two staff working each shift.