Friday, November 17th, 2006 - Banca, Romania
Whew! This week really flew by. Bob and I are alone at the Gianni Motel for the weekend. Our four team mates have gone to Transylvania for the weekend, but we have been there and to the other primary tourist destinations so decided to stay here and work by ourselves. The fact that we are only here for two weeks made that decision seem right.
We've had a really good week. Bob is working with nine Toddlers with Mary, a 16 year old who is here with her grandparents, Walt and Paula. They are doing really well together. The preschool teacher comes in the afternoons so they get a break. That gives Bob a break when he can do repairs and some of the kids can go outside. It's been 70 degrees here and lovely, although many of the kids have colds or are on medication that they aren't allowed out. I took Octavian, Maia and Florin out today. You can see how warm it is because I am not even wearing a jacket. Those blue Scooby Doo scrubs are just my speed.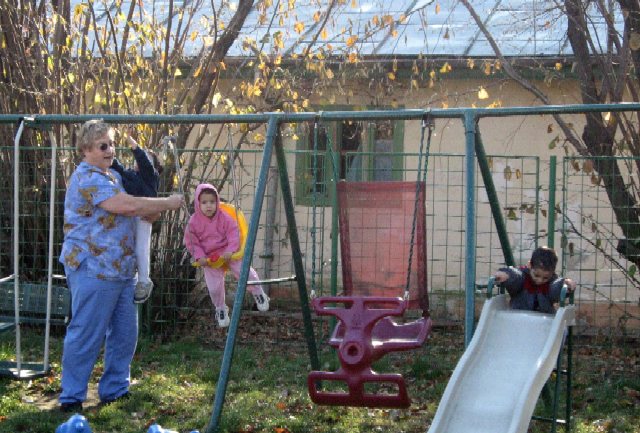 Glo, Maia and Florin playing in the playground. Quite a change from last
January when it was always below zero!
Octavian ate at least two tablespoons of sand from the playground. He compulsively finds it, even on the toys out there and puts it in his mouth and then sticks out his tongue because he doesn't like it. Duh! The fifth time I had to put him in the swing because I couldn't focus on the other kids. But we all had a good time. Florin, who is almost 4, is the mentor and actually shepherds some of the kids to various activities like lunch. Today Ioanna was in the corner and he went over to her, put his arm around her and spoke to her and moved her toward the table where the nine kids eat. Actually, when I saw that they were eating chopped up boiled chicken liver with their fingers as if it were cheerios I thought Ioanna was smart for standing away. Then I realized if Florin could sell chopped boil chicken liver, he's going to be the world's greatest salesman.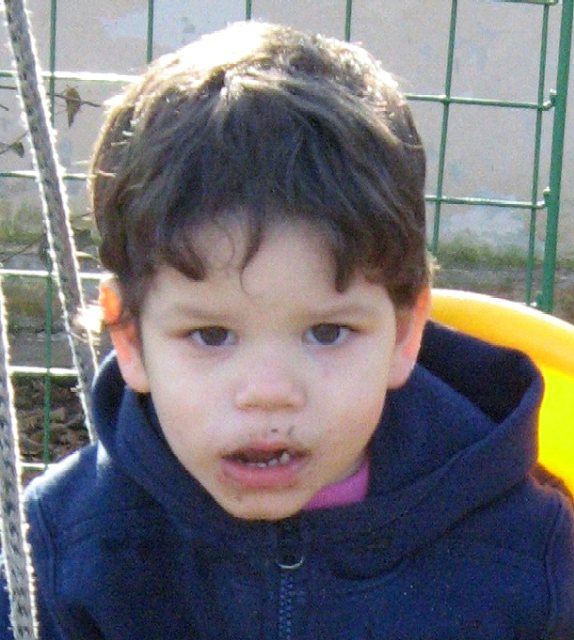 Here's Octavian with residual sand on his mouth! What a mess. The minute
he puts it in his mouth he hates it…. I had to put him in a swing to keep him from eating it.
Walt Richey and I are working with the mobile infants so I'll update you for those who know them. These are 7 kids who crawl or scoot, or who are just learning to walk. Most were non-mobile infants when we were here last year.
MIrella started walking today! She walked alone all across the big playroom by herself. What a feat. She just was so proud and we were too. When she was a baby she looked 70 years old - wrinkly and a large head and lots of hair... but now she's a charming, slim and pretty little girl who loves to make like she's blowing air with her mouth. She also loves the jumperoo as do most of the kids except chunky Sylvia who sinks so far into it that she can't move. A funny sight.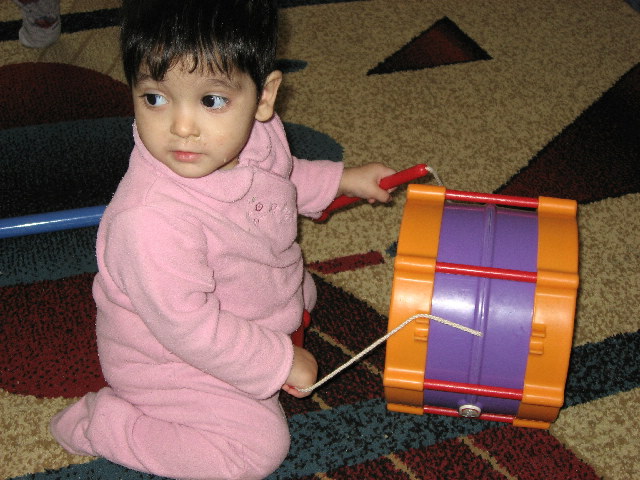 Here's Mirella on drums… not walking here but holding her own. She's a real
sweetie pie and purses her lips and says "Cuckoo!"
Sylvia is a charmer who just loves to be held and kissed. She's chubby and too lazy to walk or stand right now... but when she sees a toy or wants to get in your lap she moves fast - a charmer. Her parents came to visit this time. Several of the parents do… and some want to even take the kids home. But the governmental Child Protection Department and the doctor in charge of the clinic have to decide when and if it's appropriate.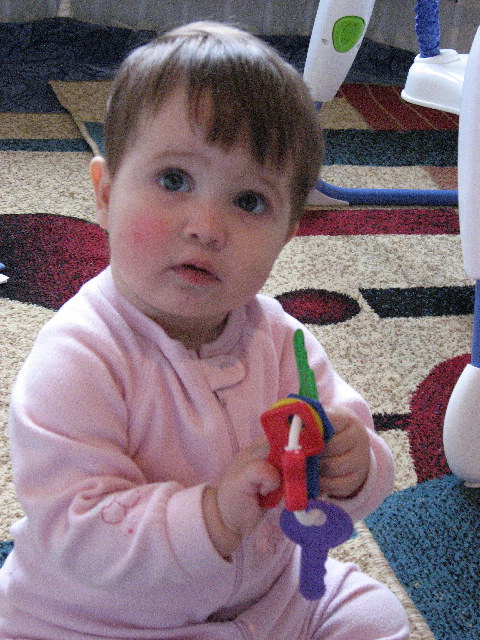 Sylvia just loves to eat and smile…. Very loving and lots of fun to be with.
The bad haircut gives her something to be concerned about in the picture.
The staff haircuts are not too terrific… and there is a propensity
for uneven bangs. Oh well. You can't have it all.
Mihaela is our laughing child. She is always smiling, clapping her hands and saying "uh oh". She learned that from Viorel who went home to his parents. Mihaela won't eat solid foods yet - not even the Cheerios that are thrown on the floor so the kids are like pigeons picking them up. It's quite the sight. I guess like the rest of us she'll do things when she is darned good and ready.
Mihaela has quite the set of pearly white teeth to go along with the bad haircut!
She loves the camera, as you can see.
Marian (aka Dumi): For those of you who asked me to update you on charming Dumi, you will be surprised to learn that his name is really Marian. His parents came in with his birth certificate. He had been called Sebastian (someone thought he looked like that name) and then Dimitru, which got shorted to Dumi. So now he's official Marian, although he answers to anything. Cute as a button and starting to walk when you hold his hands. A great eater and lots of fun to play with and hug.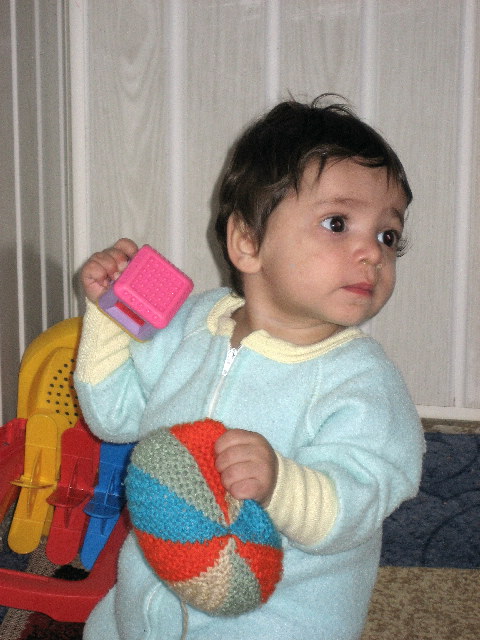 Marian (Dumi) gravitated to the little crocheted ball all of the time.
He's a charmer at the highest level and will be one year old in January.
Just about ready to walk.
Maestra is 2 1/2 and still in the mobile room rather than with the toddlers. For those of you who have been on my lists for the past two years, you will remember her as the second girl triplet. Her sister is Maia who is the boss of the toddler room after Florin. Maia yells her own name so often that every toddler knows it and shouts it too. Her sister, however, is fragile and neurologically impaired. She sits in a corner... plays with round toys or now a toy camera and sees the world through anything with a hole in it. It seems to be about refraction of light or who knows what. She often just shakes her head up and down. She really screamed a lot the first two days and went rigid with the screaming when we picked her up. Now she will shake her head back and forth with a "no" but will actually allow us to bring her into the room. Twice she refused to get off my partner Walt's lap, and now she is demanding to sit with him. She's fragile but growing. I am sure there is something exceptional in her that will come out as she grows. At least I hope so.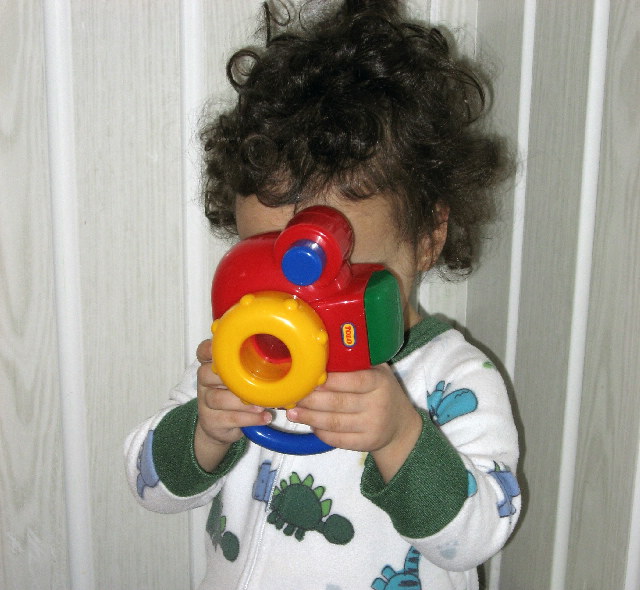 Maestra looking at the world through the toy camera - or any other item
with a round opening in it. She immediately scoots to these objects
and then crawls in the corner . She keeps to herself most of the
day unless she is in need of being held. She won't eat any solid food
either, in significant contrast to her sister, Maia, who is first in line. What a difference
between these two sisters (part of a set of triplets).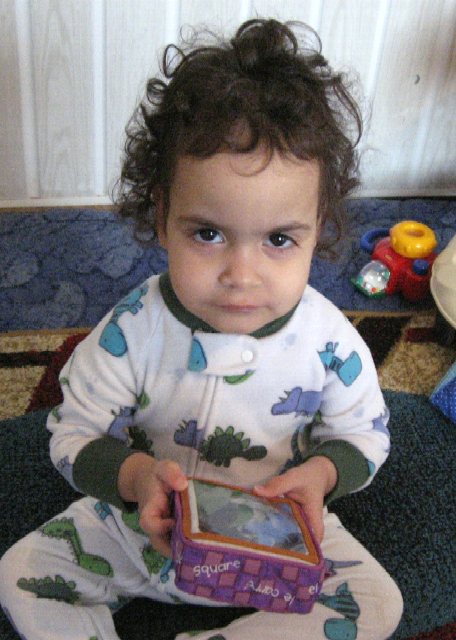 Here you can see Maestra's face - and for once she isn't looking
through a toy with a hole in it - but rather is focused on a "mirror" on one of the toys.
Abel is our special fun boy. Last January's teammate, Phil Grannan, named him "Abel the Explorer" because of his curiosity. He's one of the kids scheduled to have his severely crossed eyes fixed along with Sorin, who has neurological problems in addition to the crossed eyes. They were supposed to go to the hospital today but it was cancelled because of their respiratory infections. The kids are, as you can imagine, always sick. They will either have the immune systems of a horse when they get old or no immune system at all because of so many antibiotics. Abel is scooting and pretty much keeps to himself. He dominates the jumperoo and you have to be sure he doesn't stay in it all day. He does a lot of hitting himself in the head with hard toys or his hands... frustrating.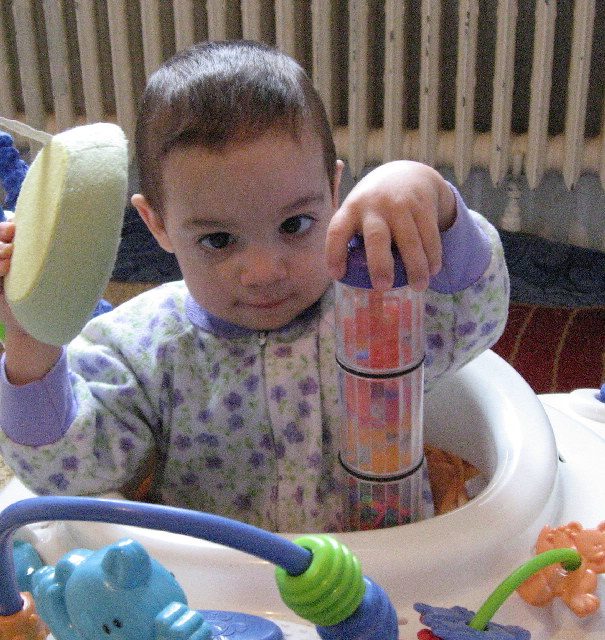 Abel is playing calmly here while sitting in the Jumperoo, one of his favoriate
activities…. He's a real doll and the eye surgery should make him so
much better in terms of seeing.
Sorin: Abel is not as bad as Sorin who goes to a wall, gets on his hands and knees and just bangs his head so hard you would think the wall would break. It's hard to keep him from doing this when he wants to... but mostly he wants to crawl under things like chairs, tables and sinks. He has one room that he runs to when he escapes from the mobile room and we find him under a chair that is under the table. I wish I knew what went on in that mind. Bob fixed the escape route today by putting a bolt on the interior of the room door so we can keep him from opening it and running out before we can get up from our chairs.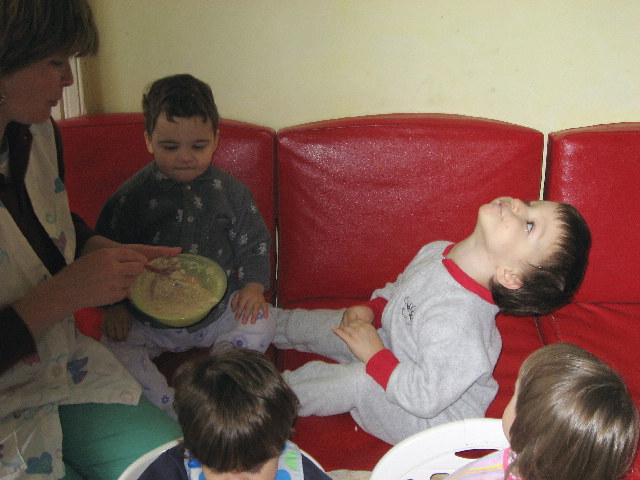 Sorin in a rare moment when he isn't hidden under a chair or table…
That's because there is yoghurt available. He is a big boy and loves to eat.
Sometimes he gets two bottles because one is simply not enough for him… and he's first
in line for the cheerios, yoghurt or oatmeal. Hopefully his eyes will be fixed very soon.
So that's the set of Mobile kids... More photos in the Mobiles photo gallery.
Here's the usual set of Romania "go figure" stories:
Fifty percent of what Bob and I ordered for dinner from the menu tonight wasn't available. Ingredients are bought in anticipation of specific meals unless you order canned veggies. So no tomatoes, no salad. Beets (with horseradish - that was the shock!), pieces of steak, pasta carbonara - Bob also had chocolate crepes. But if we want salad on Monday we have to order it tonight. Our team leader orders several days in advance. That food is quite good. This situation is more than just in time inventory control. This is "don't order it until someone actually orders the food" inventory management. Look at it this way: there's no waste.
The hotel bought new colorful sheets.... yellow, blue and pink. Lovely to look at. Tough to sleep in because they are polyester seersucker with large puckers. The first time I went to get up during the night I was in a tangle. I couldn't figure out why until the next a.m. when I realized they had put two twin sheets on a double bed and as I moved, so did the sheets. We've since been given a regular sheet. We are lucky that the "apartment" which is really a bedroom/bath with a sitting room wasn't occupied. For $5 extra a night we get space. The room is nice and large, probably 12 x 16 feet. That's the good news. The bad news is that there is one recessed light in the middle of the room. We got a floor lamp but it's a 60 watt bulb and there is only one plug that works. The only other one isn't functional... so we had to move the furniture in the room around the light fixture. I am sure they will love us when we leave. Barbara Marcus had this room last year!
Last night when we stopped so Bob could go to a hardware store (a nightly stop that elicits groans from all on the bus!), we heard an Oom Pah Pah band. Kim and I went and found out that it was a celebration of the 100th anniversary of the Barlad Library. Amazing and fun to see. Very formal and serious. Of course I was wearing my scarlet scrub pants and Dora the Explorer top so I was a hit. It's a good thing I left my bright blue crocs plastic shoes at the clinic or they would have thought the circus had come to town for sure.
So tomorrow Bob and I go to work. Our team leader Mihaela's husband, Dan, will bring us to and from the clinic. We will be two people managing 27 kids. The toddler teacher doesn't come on the weekends so it will be a sight and quite exhausting. But if we weren't there they would pretty much be in their cribs all day so it's worth it. Every minute here is worth it.
Buena Serra (good night).
Glo and Bob