Frye Home Site and Cemetery Plot
Fryeburg, Maine
Notes from a Visit by Stan Malcolm on September 10, 1998
General Joseph Frye was my great, great, great, great grandfather. His son, Samuel, and Sam's wife, Mary Gordon (see burial info below), had a daughter Sarah Walker Frye, who first married Nathaniel Jewett and then Jacob Holt Greene, my great, great grandfather. Jacob and Sarah are buried in Woodlawn Cemetery, North Waterford, Maine.
Stanley E. Malcolm
17 Caffyn Drive
Marlborough, CT 06447
860-295-9711
Stan@Performance-Vision.com
The main road through Fryeburg is Route 302 which runs generally east-west. Just east of the town center, Route 5 breaks away to the north (to Lovell). To reach the site of General Joseph Frye's homestead, take Route 5 north 2.6 miles from the junction with Route 302. On the left (west side of the road), you'll see a boulder and a grassy road into the woods. Beside the boulder, one on each side, are two American flags.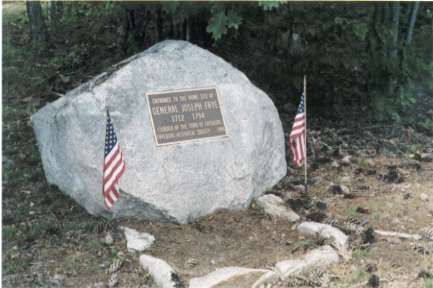 FRYE1.JPG Frye memorial boulder and plaque on west side of Route 5 North, 2.6 miles from junction with Route 302.
On the boulder is a bronze plaque engraved as follows:
ENTRANCE TO THE HOME SITE OF
GENERAL JOSEPH FRYE
1712 - 1794
FOUNDER OF THE TOWN OF FRYEBURG
FRYEBURG HISTORICAL SOCIETY 1989
FRYE2.JPG Detail of plaque on Frye Memorial Boulder.
Take the grassy road into the woods, about 0.2 miles, and you'll come to a small clearing surrounded by large pines. At the southwest side of this clearing there is another boulder with a plaque on it.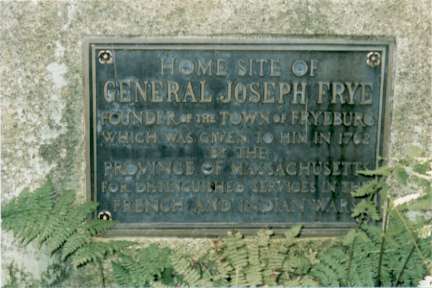 FRYE3.JPG Boulder and plaque marking the Frye home site.
This plaque is inscribed:
HOME SITE OF
GENERAL JOSEPH FRYE
FOUNDER OF THE TOWN OF FRYEBURG
WHICH WAS GIVEN TO HIM IN 1762
BY THE
PROVINCE OF MASSACHUSETTS
FOR DISTINGUISHED SERVICES IN THE
FRENCH AND INDIAN WARS
Just to the south of the boulder is a very old, gnarled tree.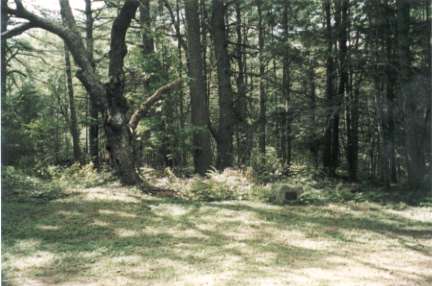 FRYE4.JPG Clearing at the Frye home site. Note boulder with plaque at right; gnarled tree left of center. Isaac Frye cellar hole is further to the left, outside the view of this photo. Joseph Frye home site (now indistinguishable) would have been to the right.
On the same side of the clearing, that is, the south side, but just east of the tree, is the cellar hole of a Frye homestead. It's not immediately visible from the clearing, being on an area of ground raised by several feet and surrounded by ferns and other woodland groundcover plants.
(NOTE: The implication is that this was General Joseph Frye's homestead. In fact, I'm told by Kenneth Thompson Jr., a Frye descendant who did his Masters thesis on General Joseph Frye, that it was the location of a home built by Isaac Frye, a grandson of Joseph. A rough map obtained by Ken from the Fryeburg Historical Society confirms Ken's interpretation of the site. Isaac's home burned in 1812. There are no traces of Joseph's homestead which would have been roughly 50 yards to the northeast of Isaac's cellar hole. Ken can be reached at P.O. Box 3897, Portland, ME 04104-3897; phone 207-774-2119)
The cellar hole is L-shaped; consisting of a rectangular area roughly 15 feet east-west, by 25 feet north-south; with an area approximately 6 feet by 6 feet extending west from the southwest corner.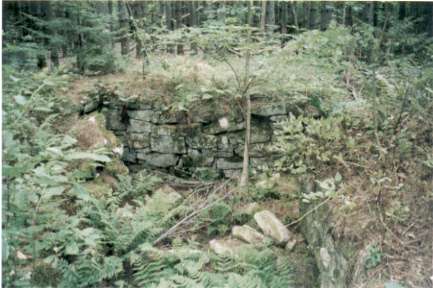 FRYE5.JPG Isaac Frye home site cellar hole. View looking south into the larger area. An "L" leads off to the far right in this picture, near the birch tree growing from the cellar floor. Note how the east wall (left in this picture) is partially caved in.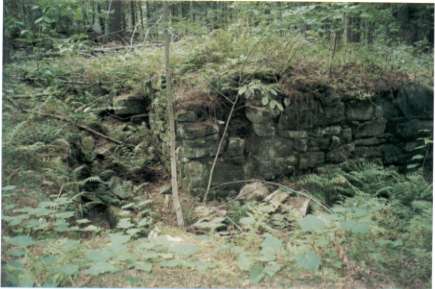 FRYE6.JPG Isaac Frye home site cellar hole. View looking west into the "L". In the far background, you can just make out a stone wall in the woods. This wall runs north-south, with a gap about where the right edge of this picture would intersect with it.
FRYE7.JPG Isaac Frye home site cellar hole. View looking east into the "L" towards the larger area. Note the crumbling east wall in the background.
A portion of the eastern wall of the main room is partially caved in, as is the western wall of the 6x6 area that extends to the west. Between the cellar hole and the clearing, I noticed three rectangular stones set parallel to the foundation. Perhaps they served as footings for a porch or a portion of the house without a cellar.
To the west of all these structures and the clearing, I noticed a north-south trending stone wall in what is now mature pine woods. Some of the stones are quite beautiful, with embedded "books" of mica.
Later, I spoke with Diane L. Jones, Director and Curator of the Fryeburg Historical Society Museum (96 Main Street, Fryeburg, ME, 04037; phone 207-935-4192; e-mail museum@landmarknet.net). Diane told me that General Frye and his family were originally buried on the east side of Route 5, adjacent to the road that leads in to his home site. Apparently, the burial site had become quite run down and when the "new" cemetery was opened on Route 302, just east of the junction with Route 5 North, their remains were transferred there.
The cemetery where the Frye family is buried now is quite easy to find as it is right on Route 302. The Frye graves are just about in the center, near the flag pole.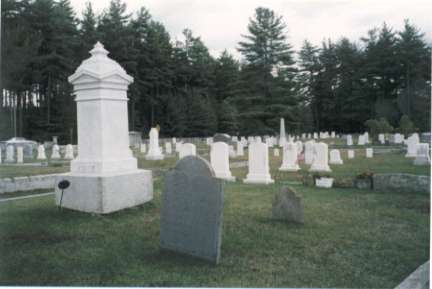 FRYE8.JPG Frye monument and stones in he Route 302 cemetery. Camera is pointed roughly northeast. Joseph and Mehitable head and foot stones are in the foreground.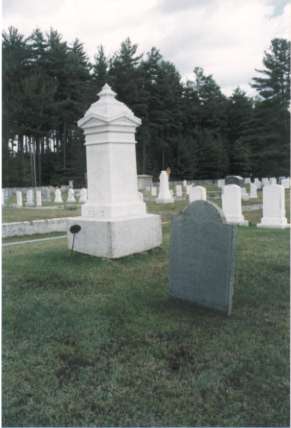 FRYE9.JPG Frye monument and stones in the Route 302 cemetery. Similar to previous view, but closer.
Assuming that Route 302 runs pretty much east-west at this point, the monument and surrounding graves are arranged as follows.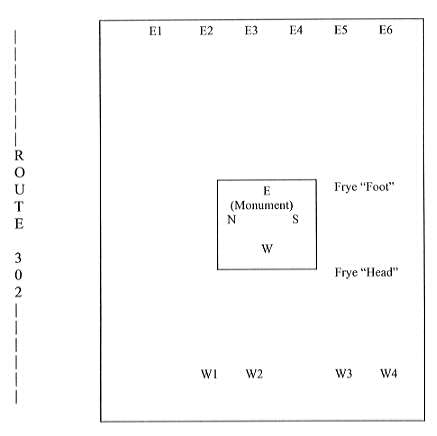 Key to diagram notations:
E1: Chas. Dana Webster; 1844-1906
E2: Elvira P., wife of C.D. Webster; 1854-1939
E3: South Carolina Webster; 1884-1915
E4: Eugene O. Libby, TSGT (Tech Sargent) US Army World War II;
Feb 20, 1913-Mar 7, 1997
E5: Helen W. Libby, wife of Eugene; Apr 1, 1916-Mar 31, 1992
E6: Webster: Ernest L. 1880-1951; Agnes N. 1885-1970
W1: J.W.F.
W2: C.W.F.
W3: A.W.F.
W4: I.F.
On the monument itself, FRYE is inscribed on the west face of the base. Above are inscriptions on all four sides:
West Side:
General Joseph Frye
Born in Andover, Mass.
Mar. 19, 1712
Died in Fryeburg
July 25, 1794
Mehitable Poor
His Wife
Born Apr. 4, 1714
Died Jan 4, 1788
North Side:
Capt. Isaac Frye
Dec 4, 1791-Sept 29, 1874
Anne Webster
His Wife
Sept 30, 1795-Dec 15, 1866
Charles W. Frye
May 7, 1827-Apr. 20, 1898
Jane W. Frye
Wife of
Henry A. Coolidge
Sept 30, 1830-June 30, 1907
Amos C. Frye
May 26, 1836-Jan 4, 1898
East Side:
Capt Joseph Frye
July 10, 1743-Jan 20, 1828
Mary Robinson
His Wife
Sept 3, 1744-May 7, 1785
Samuel Frye
July 5, 1758-May 27, 1827
Mary Gordon
His Wife
Aug 30, 1758-Aug 13, 1811
South Side:
Gen. Frye served his town and state with fidelity in civil life, and his country with distinction in the field. In recognition of his military services as Col. at the surrender of Fort William Henry to Montcalm in 1757, Commander of the forces of Mass. Bay, at the capture of Louisburgh 1758, he received from Mass. a grant of this township which bears his name.
Frye "Foot":
This is a small marker at the foot of Joseph and Mehitable's graves.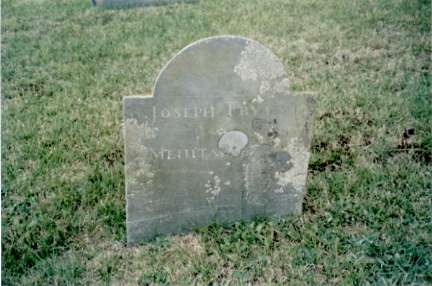 FRYE10.JPG Joseph and Mehitable Frye foot stone.
It is slate and inscribed:
Joseph Frye Esq'r
Mehitable Poor
Frye "Head":
This is a large slate marker with a curved top and inscribed angel (face with wings below extending to the sides).
FRYE11.JPG Joseph and Mehitable Frye head stone.
Below the curved top and angel, the stone is divided down the center with Joseph's information on the right and Mehitable's on the left.
Left inscription reads:
Sacred
To the memory of
Mrs. Mehitable Frye
Wife of
Joseph Frye Esq'r
Who died Jan'ry 4
1788
In ye 73 Year
Of her age.
Right inscription reads:
Sacred
To the memory of
Joseph Frye Esq'r
Who died July 25
1794
In ye 83 Year
Of his age.